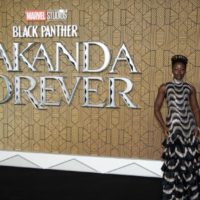 Marvel's Black Panther: Wakanda Forever was the No. 1 movie in North America over the weekend with $180 million in earnings, making it the second biggest opening weekend of 2022 at the domestic box office. In addition, Black Panther: Wakanda Forever broke the record for highest-grossing debut in November. 2013's The Hunger Games: Catching Fire was the previous champion for the month with a $158 million start.
Wakanda Forever, directed by Ryan Coogler, is the sequel to the Oscar-winning Black Panther which came out in 2018. The original movie made $700 million domestically and a worldwide total of $1.38 billion, making it the 14th highest-grossing movie of all time.
Also over the weekend, Black Adam came in at No. 2 with $8.6 million, followed by Ticket to Paradise with $6.1 million at No. 3, Lyle, Lyle, Crocodile at No. 4 with $3.2 million and Smile at No. 5 with $2.3 million.
Editorial credit: Loredana Sangiuliano / Shutterstock.com