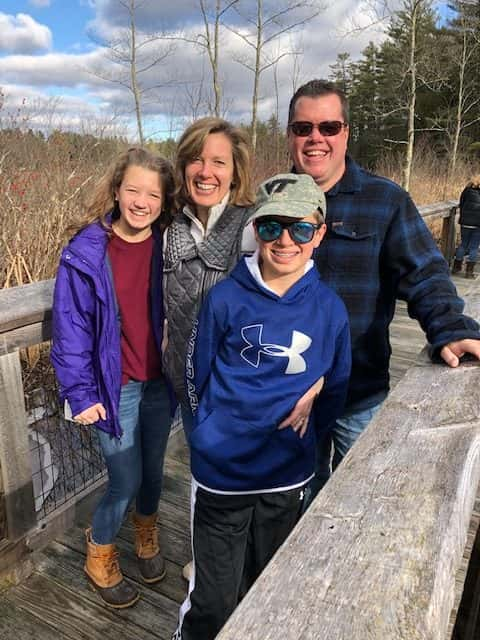 THE BASICS:
On Air: Whenever the Bat Signal is illuminated to fill-in for Dee, Kristin, Trapper or Bill and on weekends.
Hometown: Just south of Richmond, VA – Prince George County
Family: Married for 19 years, 2 great kids – teenage daughter and almost teenage son!
Education: New River Community College – Instrumentation, electronics, electrical.
Your sign? – Cancer
Favorite sports teams: I try to support the DC teams but it's not easy!!  Oh and DUKE basketball!!!
Hobbies: Hanging out with my kids… I work out a lot. Like to go for a run and spend time outside.  Like keeping the yard looking like a golf course.
ANSWERS TO QUESTIONS FROM LISTENERS AND MY FELLOW B101.5 PERSONALITIES (THIS SHOULD BE INTERESTING)…
Interesting listener experience?  I once had a kid ask me if I chose the last name West because of Kanye West!
As a kid, what did you want to be when you grew up? – A weatherman.
Favorite Ice Cream Flavor?  Is there a bad one? Cookie dough… peanut butter cup… neopolitan … oh.. you just asked for one… sorry! 
Favorite Song?  Too many to name… don't have a favorite. I like a BIG VARIETY of music!
Favorite Movie?  Despicable Me 1 and 2
Favorite Book?  The Bible and anything written by Harlan Coben .
Favorite TV/Netflix Show?  Survivor (I've watched every season!)
What are you watching now?  The Marvelous Mrs. Maisel – Amazon Prime
What are you reading now?  The First Major – John Feinstein
Favorite vacation spot?  Kiawah Island…. Or anywhere with sand, the ocean and cold beverages.
If you could meet anyone alive today, who would it be and why?  Ryan Seacrest.  Just think he's a cool guy… busy.. has a great work schedule.. works out… would love to hang with him for a day… radio show… TV show… producer!
What is your guilty musical pleasure (ie. what artist/song would you usually not admit you love)?  Britney Spears
Do you play an instrument?  No, can play a piano by hearing a song and then playing it… can't read music though.
Who is your favorite superhero and why?  Batman – Hello!  Adam West!  🙂
If you can only choose one…Wine…Whiskey…Beer…Liquor or Water?  Water… good for you and I drink a ton of it… and …. Beer comes in a close second.
If you were on Survivor, what skill would make you valuable to the tribe?  Team player and motivator… try to keep everyone together.
Favorite Disney Character and Why?  Mr. Incredible … do I really need to expand?
Favorite Seinfeld Character and Why?  George – I'm a lot like George!  Don't get happy… there's always something going on…
If you won the lottery today…what is the first item you would buy?  A new suit.  I like to get dressed up!
If you could choose your last meal…what would it be?  Greasy bacon-cheeseburger and onion rings.
If you went to Hogwarts School for Witchcraft and Wizardry, which House would the Sorting Hat place you in?  Why?  Hufflepuff – hard work and loyal!
Favorite Candy?  Reese's Cups, Three Musketeers, M&M's peanut, Payday, Take 5 …. Oh, sorry, you just asked for one….
If you auditioned on American Idol, what song would you sing?  "Hit Me Baby, One More Time" – Brit Brit
Favorite quote?  ABILITY is what you are capable of doing, MOTIVATION determines what you do, ATTITUDE determines how well you do it.
You might be surprised to know this about me….  Love to cook!  Watch food/cooking shows all the time… oh and I love watching In the Kitchen with Dave on QVC on Sunday afternoons…
Favorite Crayola Crayon Color?  Blue