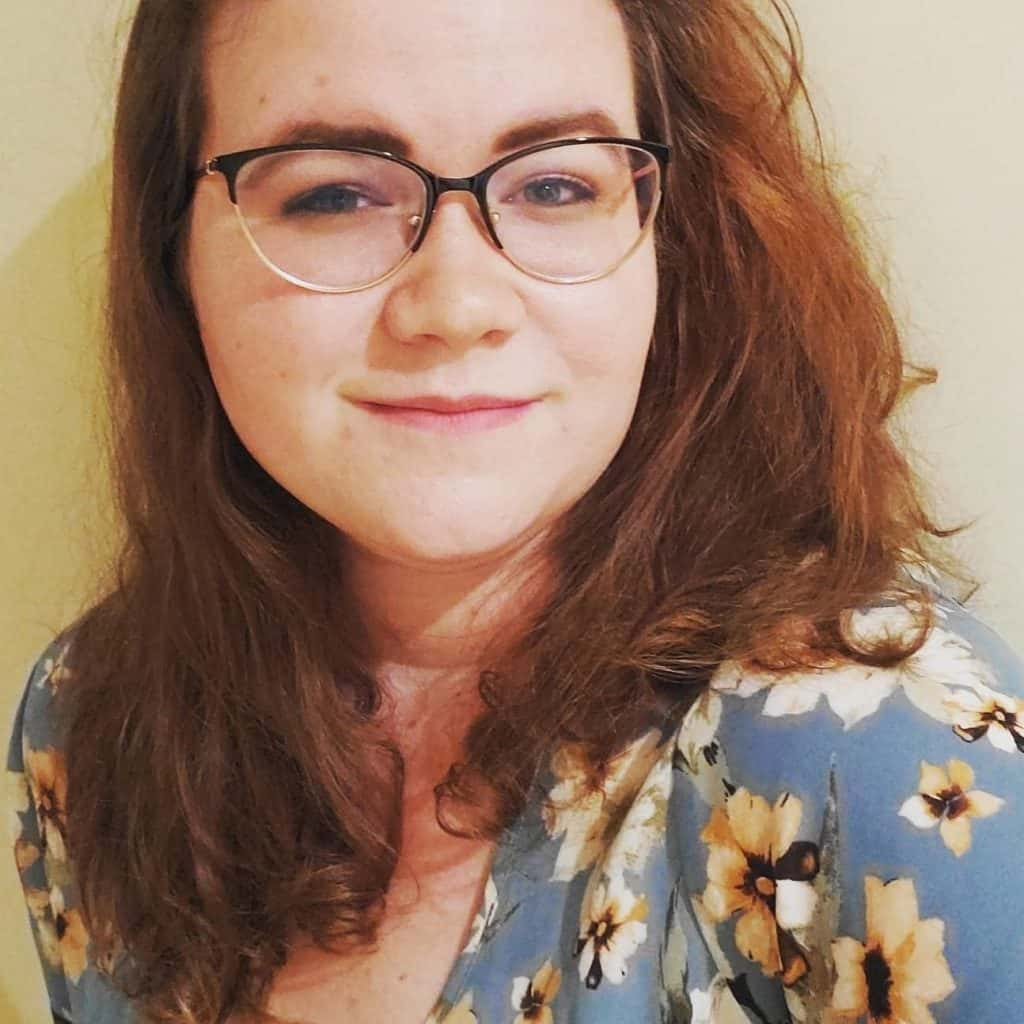 THE BASICS:
On-Air: Fill-in for nights and weekends.
Hometown: Fredericksburg
Family: I am the proud cat mom to a very sassy cat named Stache.
Education: Bachelor's in theater and a minor in music from Bluefield College.
What's your sign: Pisces
Favorite sports teams: Holyhead Harpies
Hobbies: Video games! Table top games! Really if it's a game ill probably play it. I also act when I get the chance and I consider myself a professional cat enthusiast!
ANSWERS TO QUESTIONS FROM LISTENERS AND MY FELLOW B101.5 PERSONALITIES (THIS SHOULD BE INTERESTING)…
Interesting listener experience?  A parent of one of my students told me that he listened to me.  He also informed me that I sound like I'm twelve.
As a kid, what did you want to be when you grew up?  A veterinarian….. I've been passionate about cats for a very long time.
Favorite Ice Cream Flavor?  Pistachio
Favorite Song(s)?  "Ready Aim Fire" – Imagine Dragons; "Wilson" –  Fall Out Boy; "Hard Times" Paramore
Favorite Artist?  Fall Out Boy and Imagine dragons
Favorite Movie? The Wizard of Oz
Book?  Ender's Game – Orson Scott Card
Favorite TV/Netflix Show?  Supernatural 
What are you watching now?  Buzzfeed Unsolved / Queer Eye 
What are you reading now?  Phasma
Favorite vacation spot?  Duck, NC
If you could meet anyone alive today, who would it be and why?  Stephan Colbert, he's genuinely one of the funniest human beings alive.  I think it would be great to just sit and have a conversation with him.
If you could meet anyone from the past, who would it be and why?  Probably Winston Churchill, because he is an inspiration to all grumpy people; you don't have to be happy to get stuff done.
What is your guilty musical pleasure (ie. what artist/song would you usually not admit you love)?  I rarely say it, but I appreciate Drake's music. I'm not a huge fan of rap music, but his is pretty good.
 Do you play an instrument?  I do! I was a bassoon performance major in college for a few years.  I also studied flute, piccolo, and classical voice.
Who is your favorite superhero and why?  I would say Hawkeye (If you've read the comics then you know why) but I'm going to go with Iron Man because Tony Stark is a level of fabulous that I aspire to be daily.
If you can only choose one…Wine…Whiskey…Beer…Liquor or Water?  None of the above! Tea! Preferably fruity but southern and sweet is good too!
If you were on Survivor, what skill would make you valuable to the tribe?  I  like to think I'm a pretty good navigator…. my friends might disagree… that's why I don't ask their opinions.
Favorite Disney Character and Why?  Belle from Beauty and the Beast. She's smart, she's brave, and she gets a giant library.
If you won the lottery today…what is the first item you would buy?  A giant library.
If you could choose your last meal…what would it be?  Pho and eggrolls!
If you went to Hogwarts School for Witchcraft and Wizardry, which House would the Sorting Hat place you in?  Why?  You might think Hufflepuff, but I'm actually a Gryffindor! I rarely think before I act; I'm driven by gut feelings. I also emulate bravery. Even though I can be an absolute chicken at times, I want nothing more than to be courageous.
Favorite Candy?  I really love Jelly Beans and fruit snacks!
If you auditioned on American Idol, what song would you sing?  "Wait For It"  from Hamilton.
Favorite quote?  "And above all, watch with glittering eyes the whole world around you because the greatest secrets are always hidden in the most unlikely of places. Those who don't believe in magic will never find it." — Roald Dahl
You might be surprised to know this about me….?  I'm what you'd call a "super townie."  Not only have I lived in Fredericksburg my whole life but my family has been here going back about three centuries.
Favorite Crayola Crayon Color?  Dandelion