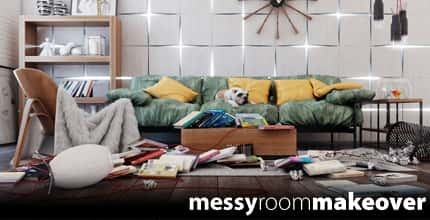 Got a messy room you just can't stand? A room you can't seem to get organized? We can help…B101.5 and College Hunks Hauling present the B101.5 Messy Room Makeover.
Take a picture of the one room (bedrooms or living rooms only) in your home that really needs some TLC and submit it below. Pictures should give the best overall view of the room, like the photos below. Room photo MUST be the legal residence of contestant.
Entries will be accepted from NOW through Thursday, Janaury 29, 2015 at 11:59PM. All entries will be broken down into four (4) individual groups.
The winning photo of each group, based on your votes, will advance into the Final Round of voting (March 2 – 8). One lucky photo entry will be selected as the B101.5 Wild Card entry and will advance into the final round of voting.
Refer to the contest rules for each group voting period. All voting will be done via B1015.com.
Click here for contest rules.
To enter the Messy Room Makeover, fill out the form below.
By enterting this contest, your information will be shared with the sponsors of this contest.
(Please submit high res photographs. B101.5 is not responsible for blurry entries.)
* By entering this contest, you acknowledge that you are the legal owner of the messy room.
* By entering this contest, you acknowledge that you have read and understand the rules and regulations of this contest.
Oops! We could not locate your form.