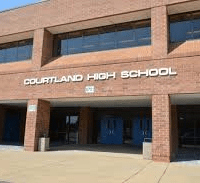 (Spotsylvania)- From the Spotsylvania Sheriff's Office:
On 09/11/2017, Staff of Courtland High School arrived to find that someone had unlawfully entered the building and damaged school property. The Spotsylvania Sheriff's Office was notified and multiple Deputies, as well as, Detectives responded to the scene. 
 
It is believed at this point that at least two subjects entered the school over the weekend during the late night hours. The subjects appeared to have made their way through the building, knocking over items and breaking interior windows. Detectives are currently seeking information to assist in this investigation. Anyone having knowledge of this incident is encouraged to contact the Spotsylvania County Sheriff's Office.