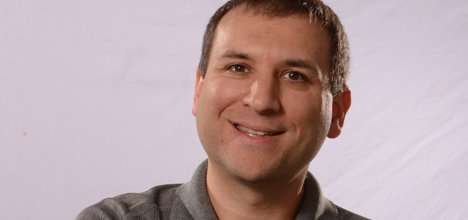 E-mail: chuck@b1015.com
Meet Chuck Archer
On-Air
Saturday — 10am-3pm
Birthday
March 18th
Hometown
Weirton, WV
Family
Married (just celebrated 10 years!) with a 8 year old daughter and 5 year old twins (boy and girl).
Education
I have a BA in Speech-Broadcasting from Marshall University. If you don't know where Marshall is, just watch the movie, We Are Marshall. Chad Pennington, Randy Moss, and Byron Leftwich all played for Marshall before going into the NFL.
Favorite Films
We Are Marshall, Dead Poets Society
Last 5 Books I've Read (I read about 50 a year)
Cutting For Stone – Abraham Verghese
The Litigators – John Grisham
Bossypants – Tina Fey
Red Mist – Patricia Cornwell
Room – Emma Donoghue
What's in my iPod right now?
It's a pretty crazy mix of music from all walks of life! As new music goes I'm diggin' Andy Grammer, Kelly Clarkson, Florance & The Machine, and Foster the People. Tunes I keep in my iPod as "go to" music include The Dave Matthews Band and Bruce Hornsby (both from VA), Peter Gabriel, They Might Be Giants, David Wilcox, Rascall Flatts, Deep Forest, Lindsey Buckingham, Kate Bush, Coldplay, and a lot of geeky 80's artists like Thomas Dolby and Howard Jones.
Favorite TV Shows
With 3 kids and a pretty active life, it's hard to get into new shows, so I choose very carefully. Downton Abbey is a MUST in my house. I hate there are only 7 episodes per season! Top Chef, Top Chef Masters, and Top Chef Just Desserts are all guilty pleasures. I've also been following Sarah Michelle Gellar's new show Ringer on the CW.
Favorite Place
Boardwalk and Park Place…when I've got hotels on each…now gimme your money!!
Favorite Quote
"Celebrate we will, because life is short, but sweet for certain." – Dave Matthews from the song Two Step.
Best Concert I've Seen
Billy Joel played the inaugural show at what was then the Coca-Cola Star Lake Amphitheater near Pittsburgh, PA (now the First Niagra Pavilion). He played nearly four hours and ended with a spectacular fireworks show!
What Would You Do If You Weren't In Radio
I'd probably be making more money. 🙂