B101.5's Care-A-Thon: Making A Difference for Children in Our Community by Supporting Children's National Hospital
B101.5's 8th annual Care-A-Thon will take place Thursday September 23 and Friday September 24.
Donate early, DONATE NOW  or text the word Buzzy to 51555.
If you have questions or want to get involved email Mandy@wbqb.com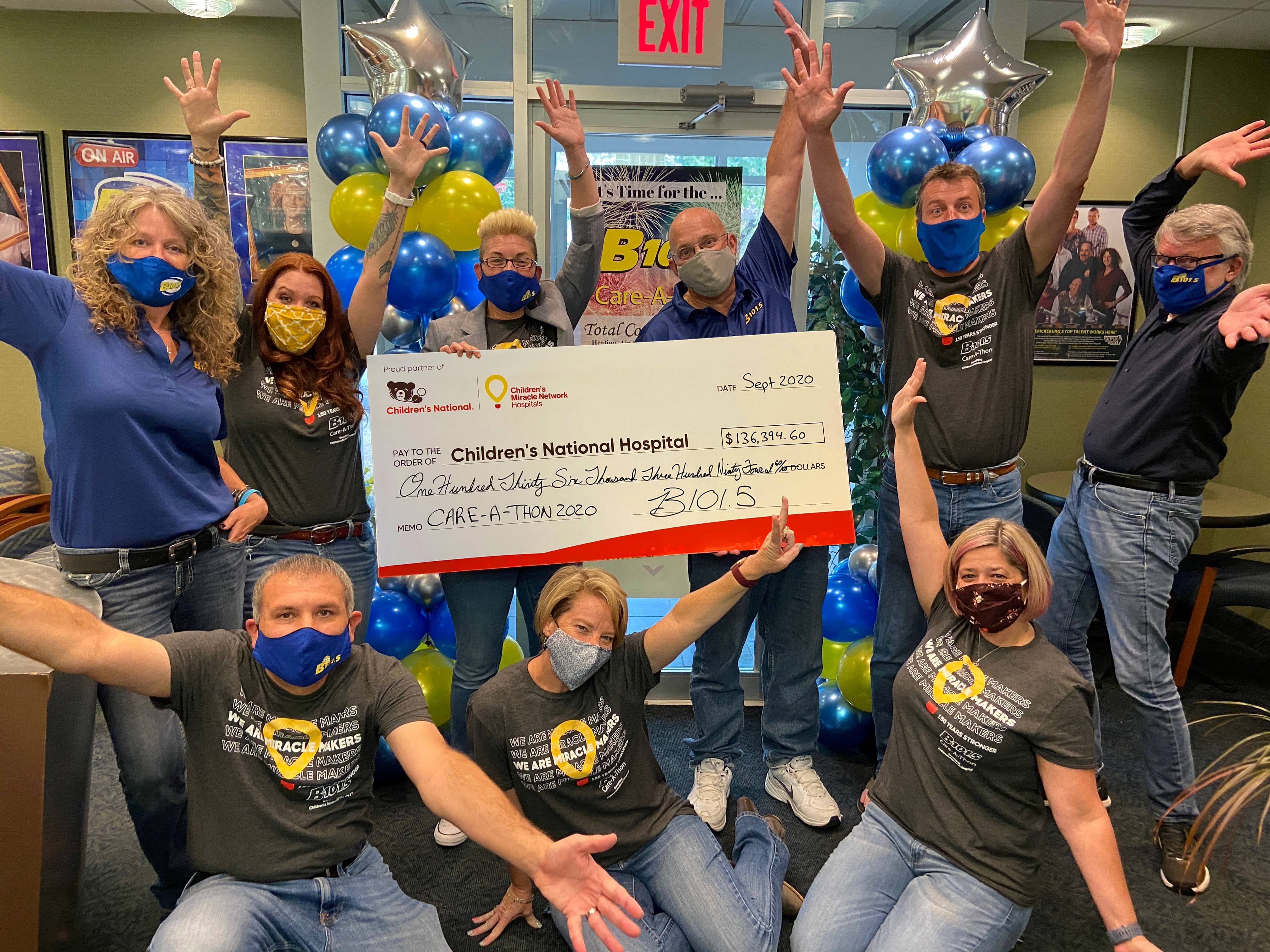 Finding Care for Nemo, Close to Home
Nemo was only three weeks old and resting in his mother Tiffany's arms the day he stopped breathing. Fortunately, he was already at Children's National Hospital. "The nurse hit the code blue button and the whole team flew through the doors to save his life," Tiffany says.
Nemo, now 3, lives with his family near Fredericksburg, VA. He was born with a heart defect and first came to Children's National for life-saving heart surgery as a newborn. He has been back for four additional surgeries. Care from our cardiac team has helped him grow into what his mom calls "a full-blown rambunctious boy who loves to smile and laugh." Nemo is named for the main character of his family's favorite movie, Finding Nemo, in which the main character has a similar physical defect. Nemo the fish's right fin is smaller than his left. Nemo the boy's right side of his heart is smaller than his left.
Part of Nemo's normalcy is that he can get care close to home — for both post-surgical and routine visits.
Nemo's Mom said, "Children's National gave my son his life. They keep doing everything they can to keep him happy, healthy and living a normal life."
Our community's support during Care-A-Thon help make it possible for Nemo's family and many others in the greater Fredericksburg area to receive convenient, compassionate, world-class care from Children's National.
Caring for More Children, Closer to Home
Due to the generosity of B101.5's listeners Children's National Fredericksburg was launched in January 2020. YOU have helped make it possible for families to access pediatric care close to home from their experts in the following medical specialties:
Cardiology
Neurology
Gastroenterology
Hematology (added June 2020)
These additional medical specialties are coming soon:
Orthopaedics
Pulmonology
Physical therapy
Endocrinology via telehealth
Psychology via telehealth
the 7th Annual Care-a-thon to benefit Children's National Hospital was held on September 24 and 25, 2020 .  During the live, 28-hour event, B101.5 listeners and sponsors pledged $136,394.60.  The money will go directly to Children's National to help ensure every child can receive exceptional care, regardless of illness, injury or ability to pay.
Since 2014 B101.5 listeners and advertising partners have raised $788,809. 
Thank you to our 2020 Partners: