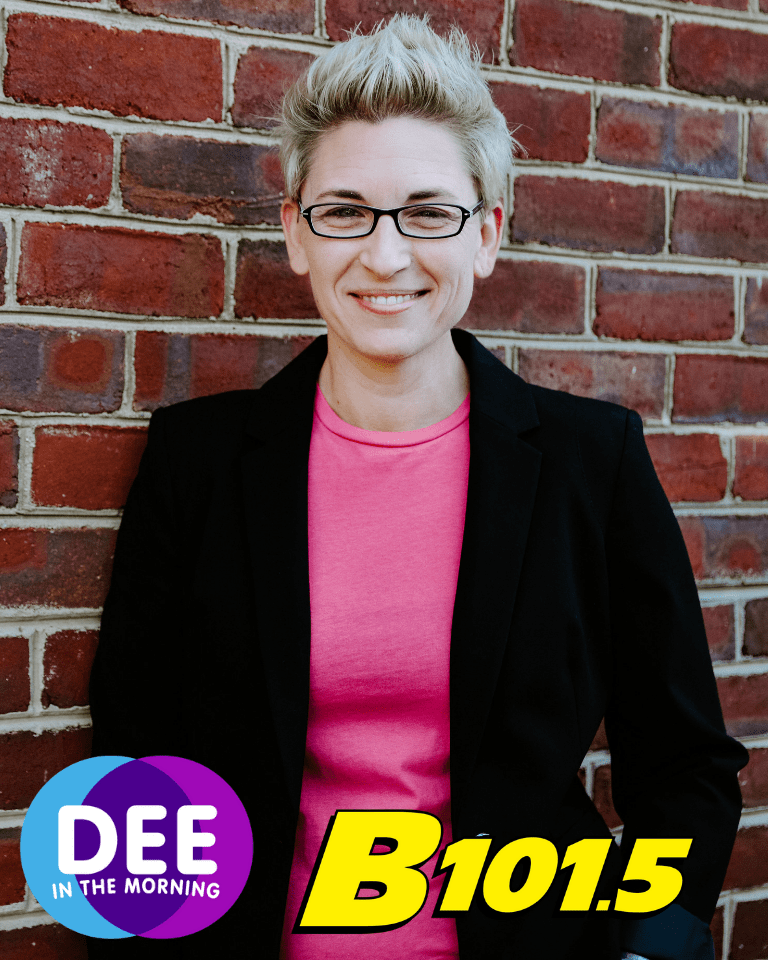 THE BASICS:
On-Air: Monday-Friday — 5am-10am…Oh my, that's so early!  Saturday — 6am-10am.  Sunday — 8am-8:30am…Sunday Mornings with Dee Daniels
Birthday: June 28th…I take flowers (I love purple), cash and checks that don't bounce
Hometown: Born in Virginia!!  Just south of Richmond
Current Residence: I live in Spotsylvania County … which I'm pretty sure takes up 72% of the state … why so large??
Family: Yes, I have family, and they claim me most of the time!
Education: Fuzzy, but there was a lot of CiCi's Pizza and Taco Bell involved #CrunchWrapSupremeRocksMyWorld
Your sign: Cancer — I read a quote about "cancers" once.  It said, "When there's a job to do, they roll up their sleeves and get to it."  I also just realized, I'm wearing something sleeveless right now, what the heck does that mean?!
Favorite sports team(s): I actually love watching tennis … I'm not sure if it's the outfits or the weird moans, but I love it!
Hobbies: I like short walks to my bed, also long gazes into my refrigerator, drive thru milkshakes, and I love to play the bass guitar!! #GirlswithGuitars
ANSWERS TO QUESTIONS FROM LISTENERS AND MY FELLOW B101.5 PERSONALITIES (THIS SHOULD BE INTERESTING)…
What has been your most interesting listener interaction?  Oh gosh … I've had so many interesting experiences meeting listeners! It's honestly my favorite thing ever to meet our fans!  I've been so lucky to be in this area for 10 years now, so I've had the opportunity to meet so many people (including kids that were 5 and are now 15, yikes). Not to mention the countless people I have met during our annual Care-a-thon for Children's National – the children, the stories, and watching our community step up for our own Children's Hospital, just breathtaking.  It means the world to me that all of you let me be a part of your morning routine, while you're getting ready for school or work or driving your ridiculous commute in this crazy traffic around here. I get calls and texts and tweets from so many awesome people – nurses, doctors, police officers, teachers, bus drivers, small business owners – SHOUT OUT to my 5 o'clock Club – and I'm truly grateful that I can share the start of a new day with you!! Also one time, I had an undercover agent text in from a stakeout! I was excited, but also scared 🙂
What did you want to be when you grew up? A Podiatrist – then I found out that meant touching people's feet, NOT someone who stands behind a podium all the time.
Favorite Ice Cream Flavor:  Chocolate Peanut Butter – turkey hill #Thanks4theMemories
Favorite Song?  "Pour Some Sugar on Me"
Favorite Artist?  Arrrrrg too many to choose, but anything disco is a good go-to in my off time!
Favorite Movie?  It's a TIE…Anchorman & Bridesmaids 
Favorite Book?  Tuesdays with Morrie     
Favorite TV/Netflix Show?  Parks and Rec
What are you watching now?  My behavior, just kidding, I'm an adult, I don't care!
 What are you reading now?  Your mind…
Favorite vacation spot?  Anywhere with beautiful water, beautiful beaches, and strong mixed drinks with beautiful umbrellas.
If you could meet anyone alive today, who would it be and why?  Oprah.  Because I hear everyone gets a car!
If you could meet anyone from the past, who would it be and why?  Rosa Parks.  Because … COURAGE!
What is your guilty musical pleasure (ie. what artist/song would you usually not admit you love)?  The Mamas & the Papas
If you can only choose one…Wine…Whiskey…Beer…Liquor or Water?  Liquor … Vodka & Soda … #KeepitSimple
If you were on Survivor, what skill would make you valuable to the tribe?  My witty sense of humor for sure! It could possibly save our lives, or just pass the time quickly.
Favorite Disney Character and Why?  Little Mermaid – I mean the fork, and the hair, and the singing voice! Triple threat girl!
Favorite Seinfeld Character and Why?  The Soup Nazi  – I like rules, or soup actually. It's more the soup.
If you won the lottery today…what is the first item you would buy?  A beach house, no wait … a celebratory drink … then a beach house!
If you could choose your last meal…what would it be?  Pot roast, mashed potatoes, cornbread, grits, fried okra, pecan pie … #LoveSouthernFood
Favorite Candy?  Anything with chocolate and caramel.
If you auditioned on American Idol, what song would you sing?  Bohemian Rhapsody  – go big or go home.
Favorite quote?  If you don't like your life, change it!
You might be surprised to know this about me:  I'm addicted to Dr. Pepper and Kettle Corn.
Favorite Crayola Crayon Color?  Hot Magenta – only because I've always wanted that to be my wrestler name!