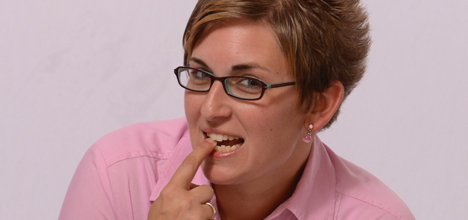 E-mail: dee@b1015.com
Meet Dee Daniels

On-Air
Monday-Friday — 5am-10am…Oh my, that's so early!
Saturday — 6am-10am
Sunday — 8am-8:30am…Sunday Mornings with Dee Daniels
Birthday
June 28th…I take flowers (I love purple), cash and checks that don't bounce
Hometown
Proud to say I'm a Virginia girl- grew up just south of Richmond
Education
Don't you agree that there are two kids of people…those who are good at Math or those who are good at English? I fell in the English category! I loved my high school English teachers. They showed me my creative side, gave me a love for poetry and they always encouraged me to ask questions. Why do you think that is? Out of high school I thought about going into Criminal Justice- so I studied that for awhile at a technical college. I also studied Communications and Journalism. And let me tell you, my newfound talent for asking questions certainly came in handy when I was doing the news for several stations in Richmond.
What do you really think about Chris?
I'd say something snarky or sarcastic, but honestly I really enjoy him! We're truly friends and he genuinely makes me laugh every single day. I love his wife and his kids, and I feel very fortunate to have found the true chemistry that so many morning shows try so hard to find.
Favorite Fan Question
The question we get the most is…What time do you get up in the morning? Alarm goes off at 3AM, but unlike Chris, I do hit the snooze once or twice! My other favorite fan question is…where's Chris? My response? In my pocket!
Favorite Movies
I totally fell in love with the movie "Bridesmaids"! But my all-time favorites? "Steel Magnolias", "Dirty Dancing", "Pulp Fiction", "The Game", "Pretty Woman", and "Willy Wonka".
Favorite Musical Artist You'd Like to Have Dinner with…and Why
Chinese food-Glee Cast.
Food truck food- James Taylor
Pizza- Pharrell Williams
Fancy sit-down- Katy Perry
Dessert- Pink
Just drinks, or "Just Dance"- Lady Gaga
Favorite TV Shows
Nurse Jackie, VEEP, Blacklist, Law and Order: SVU. Back in the day shows? Seinfeld, Friends, Matlock, Golden Girls, Designing Women, and Murder She Wrote
Favorite Place on Earth
Love the beach!
Something Interesting and Something Weird…
Interesting- I just recently started painting and I LOVE it!
Weird- I don't watch music videos! I never have! It ruins the song for me.
What Would You Do If You Weren't In Radio
Maybe teaching- I have several teachers in my family. I love mentoring kids who might be interested in a media career.
Life Quote…
Love conquers all