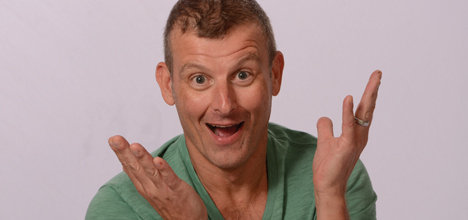 E-mail: centore@b1015.com
Meet Chris Centore

On-Air
Monday-Friday — 5am-10am
Saturday — 6am-10am
Birthday
2/18 Age Of Aquarius baby!
Hometown
Concord, MA
Who am I, and why am I here?
I'm a husband, dad, sports fanatic, avid golfer, and the Chris part of Chris and Dee in The Morning. Even though I grew up in Boston, I have called Virginia my home since 2001. I met wife in Richmond and we have traveled up and down the east coast before settling in Northern Virginia. Not only did I fall in love with a sweet, southern girl, but I also fell in love with the area-from the weather, things to do and most of all the people. I have two sons who keep me from getting enough sleep and I may complain about them occasionally, but they make everyday fun and interesting. For some reason I have always been an early riser and most days wake up mid-sentence, which works out great since I'm on the air at 5AM daily. I love the show we have created and enjoy hearing from listeners daily about their lives and talking about what's going on in the world.
Movies I think I would have made better
"Good Will Hunting"- I can rock a Nike track suit way better than Chuckie.
"Miracle"- I would have scored the winning goal, played goalie and given the famous Herb Brooks speech simultaneously.
"Caddyshack"- Because the world needs ditch diggers and I could chase varmints all day long.
Favorite Musical Artist
I love U2, Coldplay, and 311 and I've seen all three multiple times (before having kids of course). I haven't been to a real concert since 2005!
Favorite TV Shows
"Modern Family"- Duh!
"Parks and Rec"-Still funny
"SpongeBob SquarePants"- Kids make me watch it…really they do!
Anything sports related
Coolest Concert Experience
Sitting on stage for a Pearl Jam at Nissan Pavilion (Jiffy Lube Live.) Eddie Vedder actually told me to, "get out of the way"…I did!
Favorite thing about working with Dee…
Really…you're gonna throw that at me? Oh well, here goes…since i seem to spend more time with Dee on a daily basis than my family, we've had a chance to learn a lot about each other. We have some of the strangest conversations both on and off the air and it's pretty much a sure thing that she'll make me genuinely laugh everyday. I actually look forward to something she'll do or say that will brighten my, and hopefully, your day!
What Would You Do If You Weren't In Radio
Sleep!