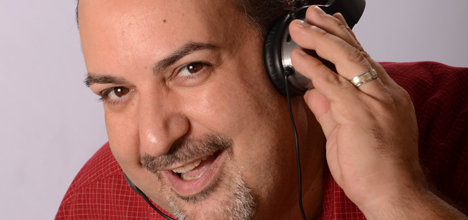 E-mail: bill@b1015.com
On-Air
Monday-Friday — 7pm-Midnight
Sunday — 3pm-7pm
Birthday
April 4th
Hometown
Upstate New York (about 90 miles above "The City")
What is your favorite drink?
Chocolate Milk… Mom had me hooked on it since I was just a little DJ.
What would I find in your refrigerator right now?
Some leftover home-made Italian dish, milk (reg & chocolate), juices, all kinds of fruit and vegetables, and Vermont Cabot CHEESE! Lots and lots of CHEESE…LOL!
What are your favorite movies?
By far mob movies like the "Godfather" series, "A Bronx Tale", "Donnie Brasco", and Goodfellas. LOVE Disney movies, too! How's that for juxtaposition? (Love this word)
If Hollywood made a movie about your life, whom would you like to see play the lead role as you?
Robin Williams- most definitely! He has done VERY sensitive, warm roles and some pretty goofy ones, too…That pretty much sums me up!
If you could be a superhero, what would you want your superpowers to be?
Invisibility. Talk about being the "hub of all knowledge"…imagine…you could find out about anything!?!?! 😉
If you were a car, what kind would you be?
A classy Italian car, like a Lamborghini!
What is your favorite type of food?
Italian, Mexican, Asian, Peruvian, American…. Oh, heck, I like 'em all! Although my favorite dish is lasagna…mmmmmmmm.
What's the most important part of eating a meal?
The FLAVA. It's ALWAYS about the FLAVA! Man, I LOVE food!
Where did my passion for radio come from?
Well, I've always been moved and drawn to music, but also radio in a big way. When I was a child I thought radio was where music came from! The DJ's, the excitement they caused with the music they were playing, I was entranced by it. When I was 7 years old I created my own radio show by recording the local station and then transcribing what the DJ said. I re-recorded my own voice and inserted it where he would talk around the music and timed it out perfectly (well I thought I did at the time)… It was a hoot! I used my double cassette deck to do it. ALSO, my older sister dated a DJ from a local station that I listened to incessantly. I was 15 at the time and BEGGED her to take me to meet him at the studio and show me what he did. From THAT day when it finally happened I was obsessed! Radio is amazing behind the scenes!